Hallstatt
This village in the Salzkammergut, Austria is a great day trip destination. At 1 hour from Salzburg you can enjoy the sights and charm of this Austrian landmark. Famous accross the world, this area was once a central part of Bavarian society as can be witnessed in the Salt Mines.
---
Interlaken
In the heart of the Alps, Interlaken is sorrounded by lakes and mountains alike. This area is a showcase of typical Swiss landscape. Recommended to lovers of nature and impressive sights.
---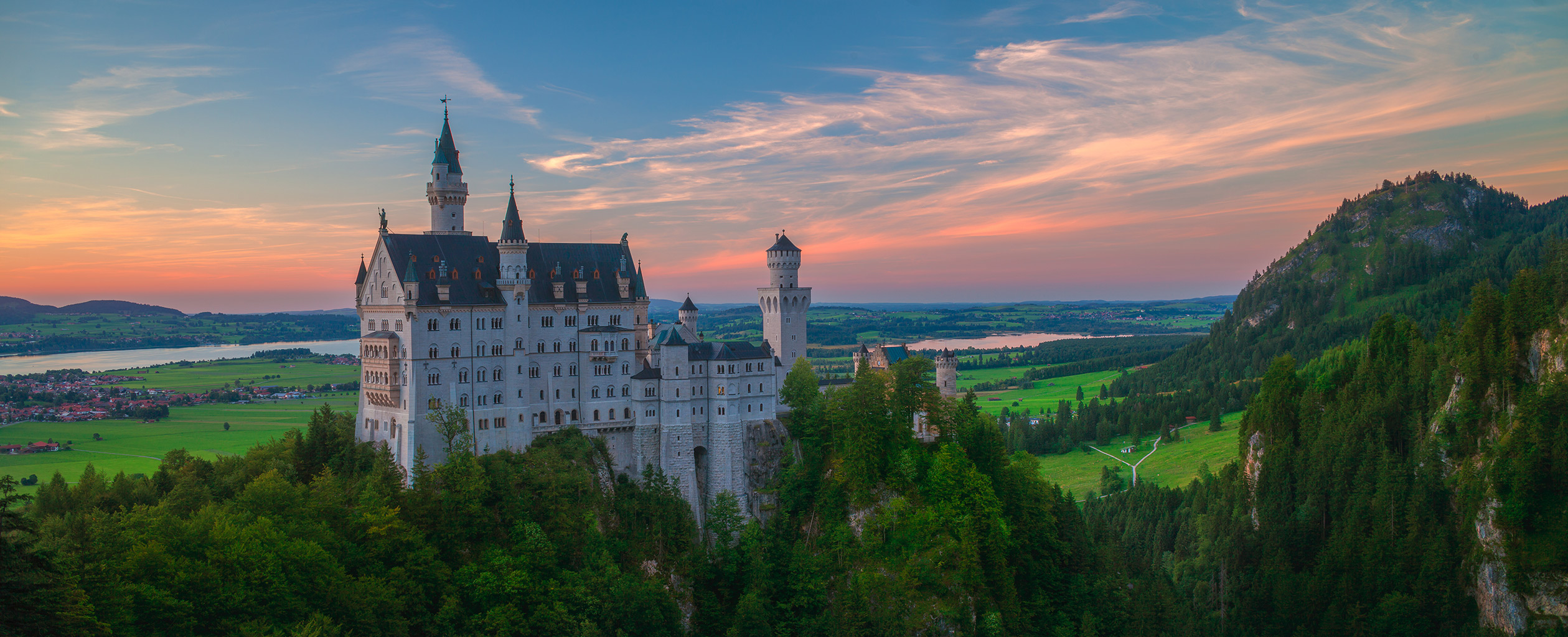 Neuschwanstein
Visit the Neuschwanstein Castle. A nineteenth-century Romanesque Revival palace above the village of Hohenschwangau near Füssen in southwest Bavaria, Germany. The palace was commissioned by Ludwig II of Bavaria as a retreat. Ludwig paid for the palace out of his personal fortune. The Disney castle was inspired on this castle constructed by the so called "Crazy King". Within 2 hours of Salzburg, it is a great destination to enjoy the sights.
---
Český Krumlov
This city in the south of Czech Republic, is one of the best landmarks of Bohemian Medieval times. Recognized with UNESCO Wolrd Heritage status in 2013 it's an indispensable destination to visit in Europe.
It's my pleasure to greet you and to introduce myself. Austria-Shuttlebus was founded in 2007 in the city of Salzburg. Its main purpose is to offer private passenger transport, tours, excursions and taxi services. I guarantee you a punctual service and safe driving for your holiday or business trips.

Our cars are new, modern and clean, with space for up to 8 passengers and luggage. The courteous drivers speak both German and English and are committed to bringing you from door to door safely, comfortably and in time. We will meet you at the Airports of Salzburg, Munich, Vienna. Likewise, we will be glad to meet you at your address and bring you to your destination. Children are welcome and we provide appropriate child safety seats.

Many greetings from Salzburg,
Anton Sotirov
---
" "Highly Recommend"! We had three trips, the first from Salzburg to St. Wolfgang, then to Zell an See and lastly to Milan Italy. Our driver Anton was very friendly and always on time. Daniel was very good to deal with when making our booking and in the EU Shuttlebus was the best price also. However I would have booked with Daniel any way because he was so friendly and eager for our business. Greetings from Stanthorpe, Australia "
" Hello Anton, Fitzroy, Jeremy and Imogen join me in saying "Thank you" for the two taxi rides from Munich to Salzburg and Salzburg to Padova. You were punctual, patient and a very pleasant driver!. We are happy to recommend you to any person who needs a taxi in Europe. (especially for long distance travel) We had a great holiday and now we are back home in Australia/USA If you and your wife come to Australia please contact us. "
" Many thanks Anton, look forward to our transfer with you once again in February 2018. Times all noted and payment as previous years in Euro on the day for each journey. We are very pleased to use Ski-Transfer-Salzburg for what will be our 8th consecutive year. Thanks, Stuart. "
---